Join Ski Utah Real Estate
We are hiring new and experienced agents to join our team.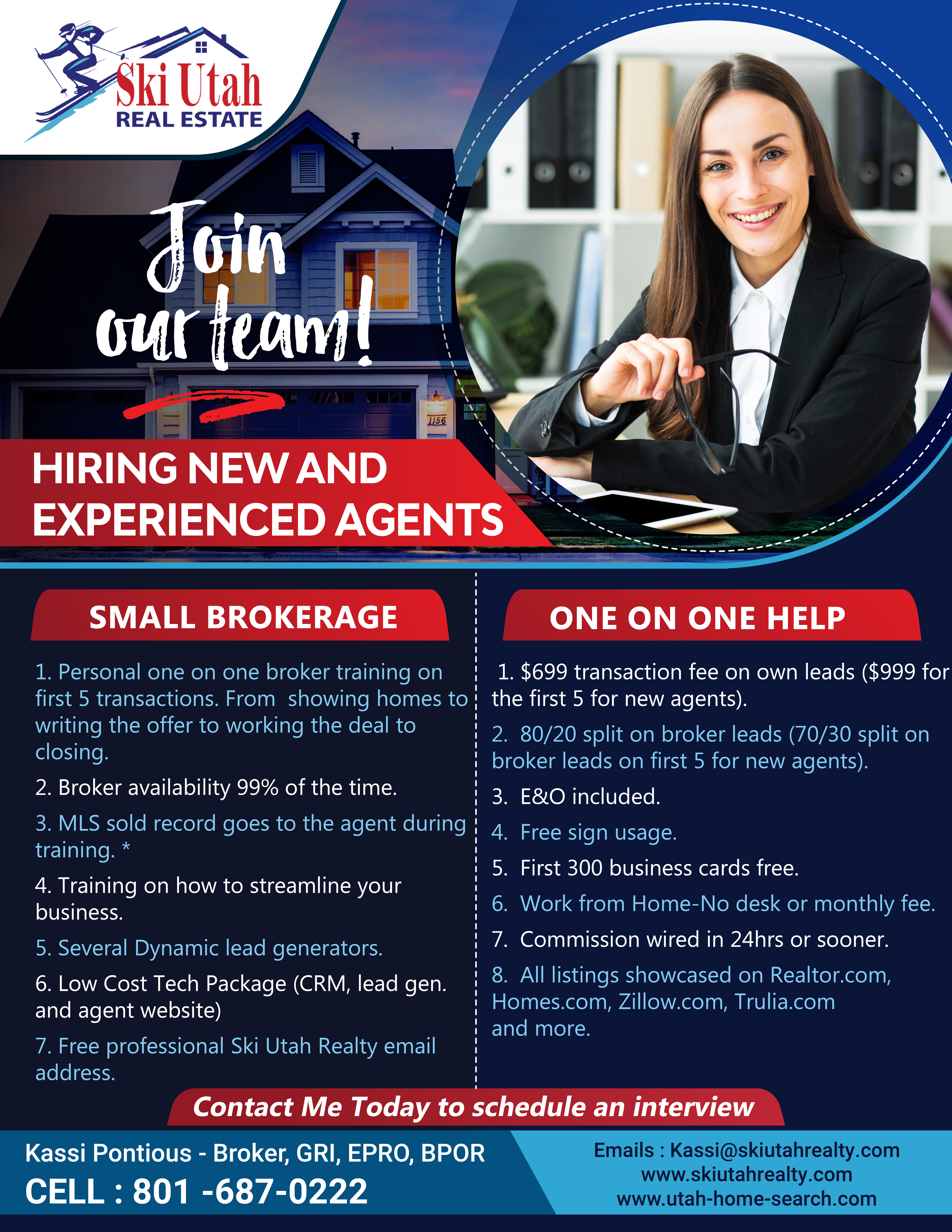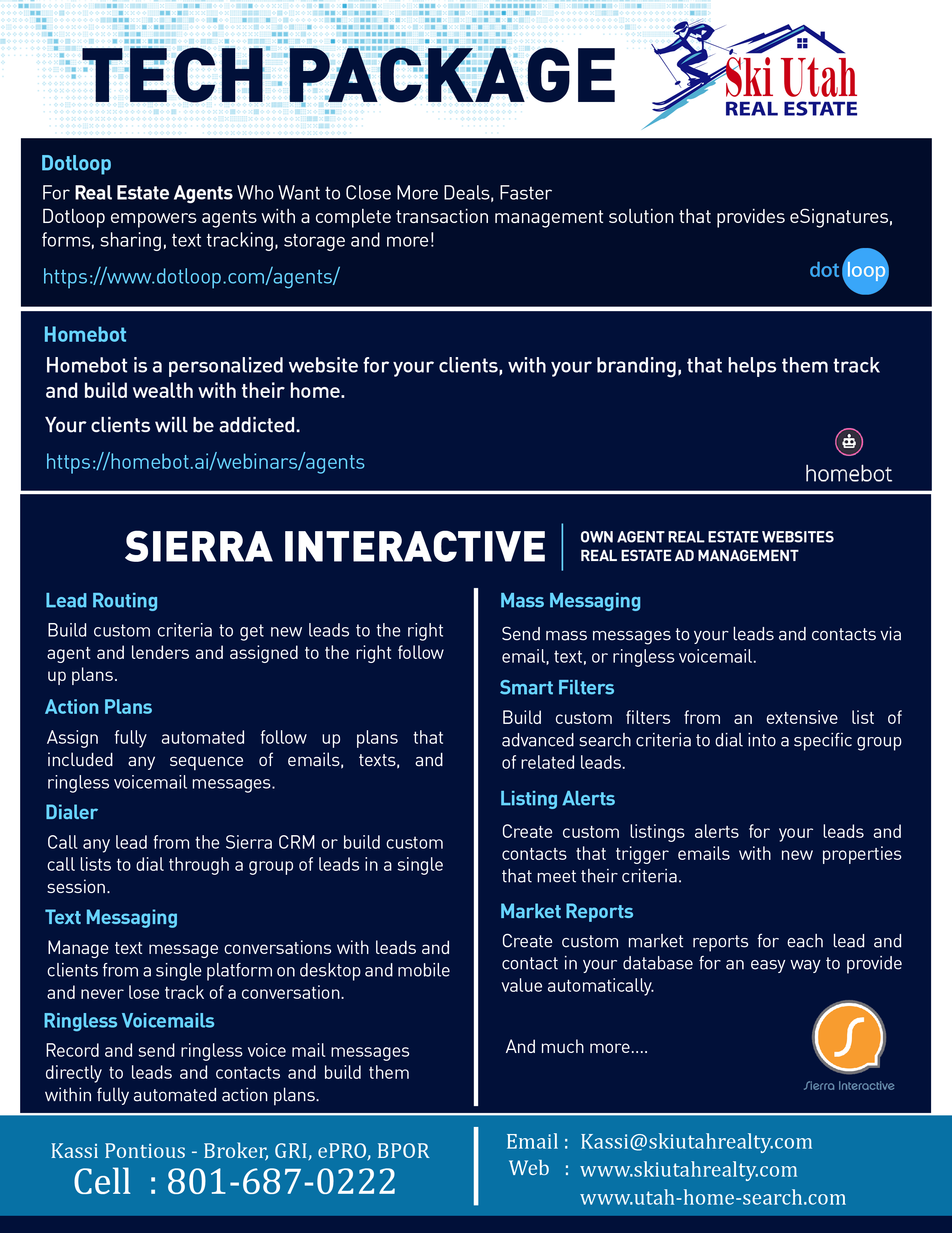 Call me today to schedule an interview.
Experience/Business Background

Licensed Realtor/Broker for over 16 years - Kassi Pontious

Member of The National Association of Realtors

Certified e-Pro Specialist

GRI - Graduate REALTOR Institute

HUD Certified Broker



I have lived in Utah most of my life. From Davis to Salt Lake to Utah County homes. I started real estate while I lived in Spanish Fork in 2004. I helped many people find their dream home while I was a sales agent with Remax Results. In 2009 I became a Broker, not only to expand my reach to clients, but to help many sales agents with their dreams of helping others buy and sell their own homes. I am a wife and mother of 4 kids. I love Utah, sports, the outdoors and my Job.
I bring a wealth of knowledge on local communities, current market conditions, and the home buying and selling process. I strive to provide exceptional service every step of the way, so I can provide you with a real estate experience that exceeds your expectations.
Local Experience
You need someone who knows this area inside and out! I can work with you to find the right home at the right price for you, including all the neighborhood amenities that matter.
Selling your home
When it's time to move, you need someone who markets your home, knows how to find the right buyer, negotiate on your behalf, oversee the inspections, handle all necessary paperwork and supervise the closing. I take care of everything you need, from start to close.
Timing Is Everything
Whether you are looking for a new home or thinking about selling your current home, call me today. I will put my expertise to work to provide you guidance and advice on what you need to know to make the best possible decision for your real estate needs.
Kassi Pontious represents the region's finest properties with exceptional skill using the most innovative technologies currently available. Kassi Pontious offers ultimate privacy and security, speed, and efficiency. Their years of full-time experience have given them a clear understanding of the mindset of home buyers and sellers and a thorough understanding of the regional marketplace.
"Over the years we have purchased several homes and each time it felt like more work than it was worth..... this time I must say: "We got lucky when we found Kassi and her team of professionals." From the comprehensive listings to the time she put in for the showings We felt like she was working only for us. And when we found the house we wanted, her knowledge and expertise made it easy, and the team she has working with her put us in our house 30 days after we found it. I dont think I will be buying another house anytime soon, But if I do I would never think of going anywhere else. We made the right choice when we chose Kassi and Ski Utah Realty."
Tracey Bakelar
"Kassi served as our realtor in 2005 in St. George, UT. She held our check after we found a better home and was quick to work with our other realtor. Kassi is tactful, friendly and worked hard to get us the home of our dreams. Kassi does not back down and fought for the best deal for everyone involved. Kassi Rocks!!!"
Noelle Lundahl
"My wife and I recently moved to SLC knowing very little about the town and with Kassi's help were able to find the perfect home. We visited for a weekend and she was happy to show us whatever we were interested in on our crazy schedule. We fell in love with the house we ended up buying and she was extremely helpful navigating negotiations with the seller and some setbacks from the loan officers. On her advice we bid 20k below the asking price and the seller took our first offer which ended up being 40k below the appraisal value. Since we were not in town, she acted as our proxy for the home inspection explaining every part of the process thoroughly. I was starting a new job and had to wait for my employment to be verified for the loan to go through, so she worked particularly hard to get the closing schedule that we needed and even managed to get the seller to throw in a dining room table."
Navin Bazaar
"I had the pleasure of working with Kassi and her associate in a recent home purchase. I am a very busy working professional and single father, she took care of everything in a timely and highly responsive manner. She made it apparent that protecting my interests as the buyer was her number one priority. Completely trusted her in the process. Every step of the way she'd explain what was needed, why it was needed and the best course of action to take. I never had to wait long for a response via text or a call to be returned, which with my busy schedule was so much of a stress off my back. I'd recommend Ski Utah to anyone who is looking to buy or sell real estate in Utah, and will use them in the future."
Kade Wood
"Kassi was very helpful, extremely professional and would highly recommend her to my family and friends."
Nick
"Kassi was great to work with. My husband and I were first time home buyers and had very little knowledge on the process. She was very patient with us and our lack of knowledge. She provided us with information on the process and never once felt rushed into making a decision. Kassi did not keep 9-5 hours. If something came up that was unexpected in the process, we were told immediately. I felt like she was as invested in our happiness with our future home as we were. If she saw something that was wrong with a home when we were looking at it, she told us. I would recommend her to friends and family."
Randy Beins
"I've used Kassi to buy two homes now, and will do so again if I'm ever in the market. I found her to be thorough, knowledgeable, and possesses a keen attention to detail, which was something I needed. There's a lot of moving parts to buying a home, and Kassi made sure nothing was missed. She was in my corner and had my best interest in mind. Kassi communicated to me exactly what was going on and kept me informed at all times. I never felt in the dark. She's a true pro!"
Chad Bounous
"Kassi Pontious is the most attentive and prompt agent, that I have ever dealt with, she was helping me and answering my questions quickly and in a very friendly manner even before I hired her. Hiring her became a no brainer. She had a sharp eye and attention to detail with my paperwork and looking over my new home, she seen things I never would have seen or even thought of. I would definitely recommend her to any of my friends or family without hesitation. Kassi made sure I was taken care of every step of the way, even checking up me during the waiting process. "
Amy C
"To say Kassi was great is an understatement. She went above the call of duty with helping us get our home. She gave true professional and helpful advise. My wife and I didn't know anything about buying a house but Kassi made it easy to understand and enjoyable. I will recommend to go with Kassi. She will take care of you. "
Michael Christensen
"For a first-time homebuyer, Kassi made this process incredibly simple and understandable. She made sure that we understood everything we were signing and reading. I couldn't have asked for a smoother experience."
Alex Rivera
"We have been involved with numerous realtors in the past but never with one so dedicated, committed and patient as Kassi. In deciding on a home to buy, we had a very difficult time deciding on what would fit our needs,desires, and price range. I was very impressed with the way Kassi listened intently and offered helpful suggestions and information to help us narrow our search. She is genuine with those she works with and never makes you feel pressured or to feel you are taking too much of her time. I recall numerous times she drove 100s of miles with less than a 24 hour notice to show us the homes we were interested in. I felt she took care of us like family. She stuck with us, patiently resolving all our concerns and making sure all the logistics of the buying process were taken care of and done correctly. I have absolutely no reservation recommending Kassi to my friends and family because I know they will be very well taken care of in every way. " - Kyle and Laura"
Kyle Johansen
"Used Kassi for several rental home purchases. She was honest, responsive and knew issues to look before so we would not get tripped up. Willing to do whatever it took to win the bids."
Ross Wilson
"Kassi was wonderful to work with. She walked us through the home buying process of first time buyers. She listened to what we wanted in a home and for our family. She listened to what we gave as a budget and didn't try to push us into a higher range. It felt like she went above and beyond what we were expecting. When it was time to move and sell our home we didn't hesitate to call Kassi again. She gave us advise on how to stage the home to best sell it. Our home had multiple offers on it within the first day that it was listed. I never felt like Kassi wasn't telling me something or waiting to tell me something. She communicates quickly and efficiently. More importantly, she listened to us. I would recommend Kassi to anyone. If we ever end up back in Utah, she will be the only realtor I call."
Susan Beyer
"Kassi is amazing! She helped me purchase my second home 7 years ago, my husband loves the house, but I hated it for the 7 years we've lived there so every day I kept track of the houses for sale on her site and finally my husband agreed to move. Kassi took me to see all the houses I asked, she made sure I knew if there were any issues with the home that could cause problems later on and if the price was fair or not. She helps you through every step of the process and makes sure you understand everything and makes sure you are happy with it all. Kassi makes sure you are kept in the loop and lets you know what to expect, if there is an issue she is the one who stands up for you and fixes it. She helped me find the most amazing home that I actually love and makes my husband happy too. She will also be the agent who sales the home we just moved from after we fix a few things of course. I will highly recommend her to anyone and everyone."
Lacey Chavez
Contact Kassi Pontious Today